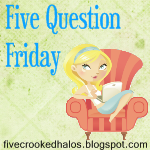 1. Do you open presents on Christmas Eve or Christmas Day?
Both, as kids we were allowed to open one present on Christmas Eve of our parent's choosing. I like this tradition and we will more than likely pass in on to Baby Bug.
2. What is your favorite Christmas cookie (or candy)?
Hmmm, hard one. I love cookies. I really like Greek Wedding Cookies and the ones with the hershey's kisses on top.
3. What's the worst Christmas gift you've ever received?
A pair of yellow granny panties from my great aunt - I was 7.
4. Christmas song that you love?
What Child is This. But honestly, I can't get enough of Christmas music. I'd listen to it year round if it didn't annoy the Hubs.
5. H
ow many trees do you put up?
One when we have a home.